NethServer 6.8 "Final" released!
I'm proud to announce that NethServer 6.8 has been released and is publicly available and is the newest long-term support release.
Highlights
There are a ton of major changes to NethServer and it's impossible to cover them all in detail here, so here are some of our favorite highlights.
Based on the recently released CentOS 6.8 operating system,
SELinux policy changed from permissive to disabled
Package collectd upgraded from version 4 to 5
Firewall: web interface for policy routing
New interface module for managing policy routing rules.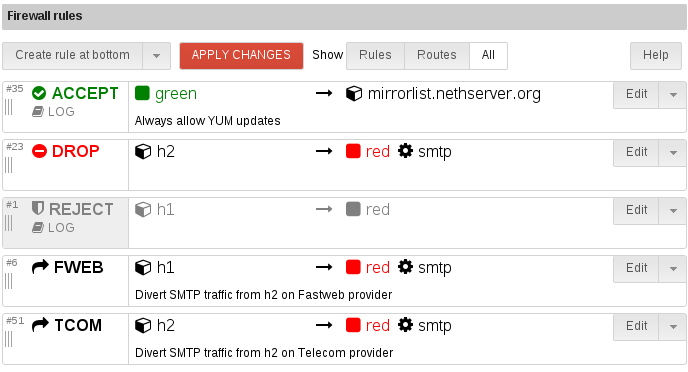 Simplified Multi WAN configuration
New configuration for the multi-wan monitoring along with a new interface.
Performance
As always, there have been several changes with a focus on performance. This includes an optimized ntopng since it heavily used redis to save temporary data about host network traffic. In a scenario where there are many hosts involved, ntopng will highly increase redis memory usage
Use DNSBL to fight spam
Better spam filtering by using the DNS-based Blackhole List (DNSBL),
Support for CIDR and IP ranges as source and destination for proxy bypass
Bonding mode
It's now possibile to create a bond with specific mode (active-backup, balance round robin, etc) from the Network page
NethForge enabled by default
Support for installing and enabling the NethForge Software Center category by default, allowing users to find extra modules built by the community.
YUM clean button
New button for cleaning the YUM transactions for freeing up disk space and resolving software installation issues.
New "Public IP" field for OpenVPN
Added a remote field in OpenVPN interface to cover some scenarios where the OpenVPN client can't find the server by searching for its host name
Support for multiple interfaces on ntopng
Now enabling ntopng, all traffic passing through several network interfaces will be analyzed
Other improvements
Hairpin NAT from blue and orange
New release of WebTop with support for Active Directory, data import from SOGo, and many other updates
Upgrading to Owncloud 7.0.13
Updated language pack and new Portoguese Brazilian language
Multiple fixes for: PPPoE, sNAT, IP/MAC binding, squid, RoundCube, DHCP, pulledpork, adagios, vsftpd, pop3 scan, group email addresses creation.
Improve fax report quality
Web antivirus whitelist
AD groups for squidguard profiles
IPsec tunnels with PPPoE
New WPAD implementation which includes also proxy bypass
Mail to fax
Many bug fixes and small enhancements
Enhancements to email archive filter
L2TP now correctly works with multi WAN
IPSec tunnels automatically enable firewall-to-firewall traffic
support for using IP and CIDR (Classless Inter-Domain Routing) ranges as the source and destination for the proxy bypass settings, Add CIDR subnets and ip ranges as hosts without proxy in Proxy
Samba now supports roaming profiles fir Windows 8,8,1 and 10
Samba shares can now be browseable or hidden
Various bug fixes on firewall rules and objects, backup web interface, trusted networks, coova chilli, dashboard and bond configuration
Upgrade from version 6.7
Start the update as usual from the Software Center page. It is recommended to reboot the system at the end of the update procedure.
Thank you
As usual, we'd like to first thank the overall NethServer community for contributions toward this release — whether it was in pull requests, feedback, bug reports and suggestions.
Download
NethServer 6.8 (490MB)
Torrent link: nethserver-6.8-x86_64.iso.torrent