NethServer 7.3 update 1 Released
Another new milestone in NethServer history. Today, we're thrilled to announce that NethServer 7.3 update 1 has been released and is publicly available.
We're confident that it will be as always a great release and it will achieve our mission: making sysadmin's life easier with Open Source. This is thanks to the most vibrant, supportive and friendly community in the Open Source space (and not only Open Source).
The new release improves the installation process and the first system configuration. In addition, it contains some improvements (Accounts provider page, diagnostic tools) that are very important, especially for people that install NethServer for the first time.
Configuration backup enhancement
Starting from @Ctek's work and straight from our meeting at FOSDEM17, @davidep has developed a configuration backup enhancement. The goal is:
"restore from backup" at first system boot (FirstConfigWiz UI module)
configuration backup history
history length customization
upload an item to the history
restore from history


New backup panel
OpenvPN: improve net2net tunnels
The main goal of this refactoring is to simplify the creation of tunnels to connect 2 remote networks using a VPN. (Kudos to @giacomo)
More info about the new workflow here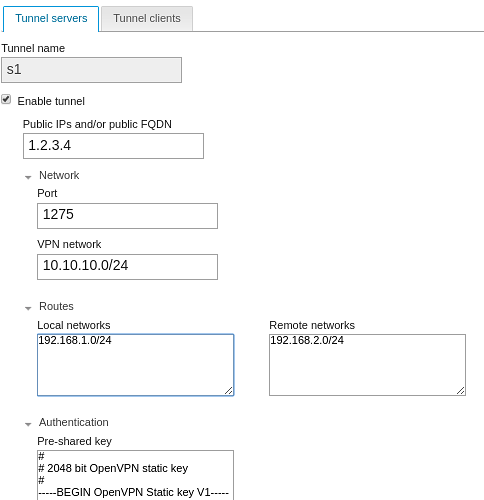 Other features:
Tunnel status is displayed on the configuration page:
OpenVPN page has been split in two pages:
OpenVPN roadwarrior
OpenVPN tunnels
Tunnel client can be now enabled and disabled
The administrator is able to add extra push options to roadwarrior server like:
select if the client must receive all configured static routes or only routes for green networks
push extra DHCP options such as:

Domain
DNS server
WINS server
NBDD server
WebTop 5.0.7 (first upgrade pack)
Thanks to our @webtop_team these are the new features introduced in the last update:
Support complex filters (multiple conditions and actions) and Sieve script selection
Support to paste-image inside html editor
New view management IMAP folders
Improved the view of new mail in discussions
New interactive search, using ctrl+enter on search field or selecting "interactive" as the search field
Backup data: basic WebDAV support for backups and storage stats
Thanks to @dnutan we have implemented WebDAV as backend for backup data and the dashboard now displays backup storage utilization statistics
UI tweaks for IPSec tunnels
We have improved the web interface, now you can:
allow IP addresses and host names in the "Remote IP" field
enable and disable tunnels from the table view by adding two new actions
Web proxy: support divert and priority rules
Firewall rules for routing traffic to a specific provider, or decrease/increase priority, are applied only to network traffic which traverses the gateway.
These rules don't apply if the traffic goes through the proxy because the traffic is generated from the gateway itself.
The new web interface for the web proxy, will allow to create rules like:
HTTP/S traffic from host badpc has low priority
HTTP/S traffic from CIDR service_net has high priority
HTTP/S traffic from myprinter diverted to myslownet provider (automatic failover)
HTTP/S traffic from mywebserver forced to myfastnet provider (no switch if the WAN goes down)
NextCloud 12
Nextcloud has been upgraded to latest upstream release (12.0.0).
Accounts provider update
After a few (re)iterations of development/testing/fixing, the new UI for accounts provider management is available.
Main features:
Both AD and LDAP local accounts provider can be installed/uninstalled from Accounts provider page
LDAP remote accounts provider: connection parameters are probed automatically
AD remote accounts provider: NetBIOS domain name and LDAP connection parameters are probed automatically
AD local accounts provider:
you can assign any DNS domain/Realm to AD. It is no longer bound to the host domain name. This fixes many issues with mail server configurations
Change the IP of the nsdc Linux Container: available with a shell script
Nethserver network diagnostic tools
When it's time to check the network expert system administrators are used to open the terminal and type some commands.
But there are a lot of people who are not really at ease working on a terminal, for this reason, our amazing @stephdl has developed a network diagnostic tool for NethServer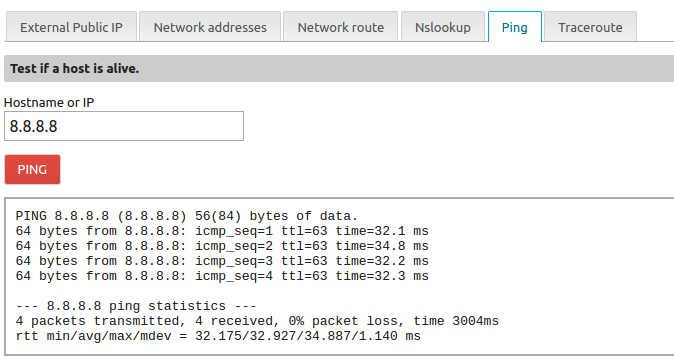 Other improvements
For further information, all closed issues are reported on our bug tracker.
Thank the overall NethServer community
As usual, we'd like to first thank the overall community for contributions toward these improvements — whether it was in feedback, bug reports and suggestions or our personal favorite, feedback based on participation in our very own NethServer community.
Download and Test
Who wouldn't want all these fantastic new features?
You can install NethServer on a virtual machine or on a bare-metal server using a DVD or USB stick
Upgrade from 7 versions are supported through the Software center
If you find a bug, please report it here – every bug you uncover is a chance to improve the experience for thousands of NethServer users worldwide, also our amazing beta testers team will be called upon to give its support on that!
Ready to check it out? Then head to the docs and download:
NethServer 7.3 update 1 (740MB)