I'm excited to announce that NethServer 7.5 has been released and is publicly available.
We're confident that it will be as always a great release and it will achieve our mission: making sysadmin's life easier with Open Source. This is thanks to the most vibrant, supportive and friendly community in the Open Source space (and not only Open Source).
About NethServer
NethServer is an Open Source operating system for the Linux enthusiast, designed for small offices, medium enterprises and home users. It's simple, secure and flexible. NethServer helps sysadmins being successful in the IT space by leveraging all the power of a Linux server without complexity
NethServer supports the community of sysadmins, be they home or business, with a powerful package of software to serve everyone, that will be free, open, dependable and sustainable for the long term.
NethServer is ready to deliver your messages, to protect your network with the built-in firewall, share your files and much more, everything on the same system.
Release highlights
Many new features were added since the last NethServer ISO was released, they are all available today with NethServer 7.5! Let's see the most important improvements:
Subscription: Stable Updates Repository + Professional Support Services
The NethServer Subscription by Nethesis enables exclusive access to the Stable Updates repository, monitoring tools and immediate professional support services for your NethServer deployments.
The NethServer subscription module is available by default in new installations. Let's subscribe your NethServer now following this guide!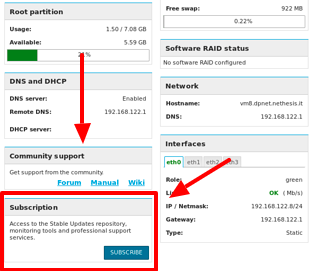 Rspamd
A new email server and filter alternative based on Rspamd has been released and is now available from software center. What's new? New antispam engine, DKIM signature, Greylist threshold, Rspamd web UI.
OpenDKIM signature for outbound messages
Signing outbound mail messages with a DKIM key increases the trust of other mail servers with ours! It is now available from Email > Domains page
Software center configuration and system upgrade panels
We have deployed a new panel to manage the Software center. It allows to select how NethServer deals with upstream updates and configures automatic software updates
The "Locked" policy is selected automatically when CentOS releases a new minor version. It limits updates to repositories specific to the current version When NethServer is ready to upgrade, the new upgrade procedure can be started:

The Software center section of the Admin's manual was updated accordingly. Read it carefully!
Icaro Hotspot
Hotspot main goal is to provide internet connectivity via wi-fi to casual users. Users are sent to a captive portal from which they can access the network by authenticating themselves via social login, sms or email. Icaro is complete Hotspot written in Go and Vue.js. It uses CoovaChilli as access controller which can be configured and installed inside NethServer.
Fail2Ban is now part of the core
Fail2ban scans log files (e.g. /var/log/apache/error_log) and bans IPs that show the malicious signs – too many password failures, seeking for exploits, etc. Generally Fail2Ban is then used to update firewall rules to reject the IP addresses for a specified amount of time, although any arbitrary other action (e.g. sending an email) could also be configured. Out of the box Fail2Ban comes with filters for various services (apache, courier, ssh, etc). Fail2Ban is able to reduce the rate of incorrect authentications attempts however it cannot eliminate the risk that weak authentication presents.
Backup data: include log files
The useris now able to add system log files inside the data backup. This behavior is useful when the sysadmin must complain to strict rules about log retention policy GDPR
NextCloud 13.02
Latest version is now integrated in NethServer. Some improvements has been added to improve performance and security: new php 7.1 version, "Strict-Transport-Security" HTTP header, opcache and others..

Mattermost
Open source, private cloud, Slack-alternative is now included in NethServer.
Workplace messaging for web, PCs and phones. Increase productivity while reducing shadow IT with a secure, configurable, scalable enterprise messaging solution on an open source platform.
NethServer HotSync
NethServer HotSync aims to reduce downtime in case of failure. Normally users are able to start working again with data from the night before failure after a few hours/days. Using hotsync, time 1 and 3 are 0, 2 is 5 minutes (time to activate spare server). Users are able to start working again in few minutes, using data from a few minutes before the crash.
Improved Quality of Service (QoS)
We improved current QoS implementation for better incoming and outgoing bandwidth control.
You're able to limit and reserve the bandwith for specific host or protocol, examples:
1Mb/s reserved for SIP protocol
10Mb/s maximum speed for HTTP downloads
Wildcard DNS record
This is a new DNS override rule that matches the given host name (domain) and any sub-domain of it.
Manage TLS Security
TLS security can be hardened easily with the new policy selector
Each policy is described in detail in the Admin's manual: TLS policy.
Windows File server page
Essential shared folder priviliges are now manageable via the web interface.
And so much more
These are just the major highlights in 7.5 RC1— there are literally hundreds of other tiny improvements, refinements, and bugfixes that we aren't covering here like:
MX DNS record override for LAN hosts has been removed. Removed postfix/MxRecordStatus prop
Host name aliases are converted into hosts DB records. See Additional host name aliases
/etc/fstab is no longer an expanded template. See Requirements and User home directories for details
Default Server Manager session idle timeout is 60 minutes, session life time is 8 hours
The WebVirtMgr project is no longer maintained and the corresponding module has been removed along with nethserver-libvirt package.
Thank the overall NethServer community
Thanks to the greater Community community for posting support / bug request / feedback topics on community.nethserver.org.. All your suggestions make NethServer better, not only for your community, but all of us.
Just mentioning a few of them:
@ibinetwork @mrmarkuz @compsos @danb35 @GG_jr @indra @fausp @dz00te @pfornara @zimny @ohifra @stephdl @robb @m.traeumner @saitobenkei @flatspin
We had a remarkable number of translators in 2018 as well, who contributed their time and effort translating NethServer into dozens of languages with more than 15k words translated.
Download and Install
You can install it on a virtual machine or on a bare-metal server using a DVD or USB stick
Upgrade from Beta1 or RC1 is supported through the Software center
For installations with Subscription enabled, 7.5 gonna be available over the next week
If you find a bug, please report it here – every bug you uncover is a chance to improve the experience for thousands of NethServer users worldwide, also our amazing beta testers team will be called upon to give its support on that!
Ready to check it out? Then head to the docs and download:
NethServer 7.5 (993MB)
Hashes
* md5 002228c20d0702b98568aff67319d5eb
* sha1 cdb9e302d563d5abb500286946e88e33ec81058d
Torrent
* Torrent link: nethserver-7.5.1804-x86_64.iso.torrent
* infohash 50109f72fe394e2baed8378612859aa4261aeab4
Documentation
* Technical Release Notes
* Administrator manual
* Developer manual