We're happy to announce that NethServer 7.7 Cockpit Edition is publicly available.
Why a Cockpit Edition?
Already introduced in version 7.6, Cockpit is now complete and available by default on new installations.
It makes the server administration easier providing a modern looking and user-friendly interface.
We didn't only redesigned the web interface but also improved usability and added new features.
What's new?
This release marks a big step forward for communication, collaboration and security, introducing:
New interface and stats for VPNs
New interface for firewall panel and dashboard
New interface for fail2ban and Web Proxy
New dashboard for fileserver, stats on shared folders and audit integration
New way to manage multiple backups and restore
New NextCloud panel
Webtop 5.7.3
Mattermost 5.15 and NextCloud 16.0.5
New panel for UPS and NUT
New system reports
New apache integration and welcome page
We're confident that it will be as always a great release and it will achieve our mission: making sysadmin's life easier. This is thanks to the most vibrant, supportive and friendly community in the Open Source space (and not only Open Source).
About NethServer
NethServer is an Open Source operating system designed for small offices, medium enterprises and homserver. It's simple, secure and flexible.
NethServer is ready to deliver your messages, to protect your network with the built-in firewall, share your files and much more, everything on one system.
Release highlights
Many new features were added since the last NethServer ISO was released, they are all available today with NethServer 7.7. Let's see the most important improvements:
New interface and stats for VPNs
Usage stats for each tunnel
Connections history for every user
Send account configuration by email
Other Roadwarrior features
* custom routes
* change protocol UDP/TCP
* enable/disable account
* compression and algorithm selection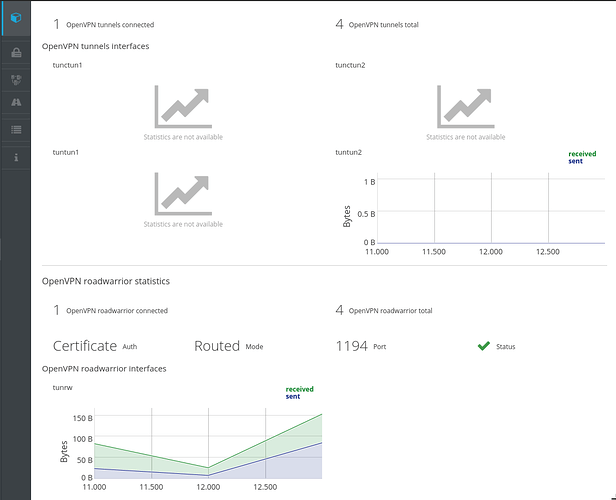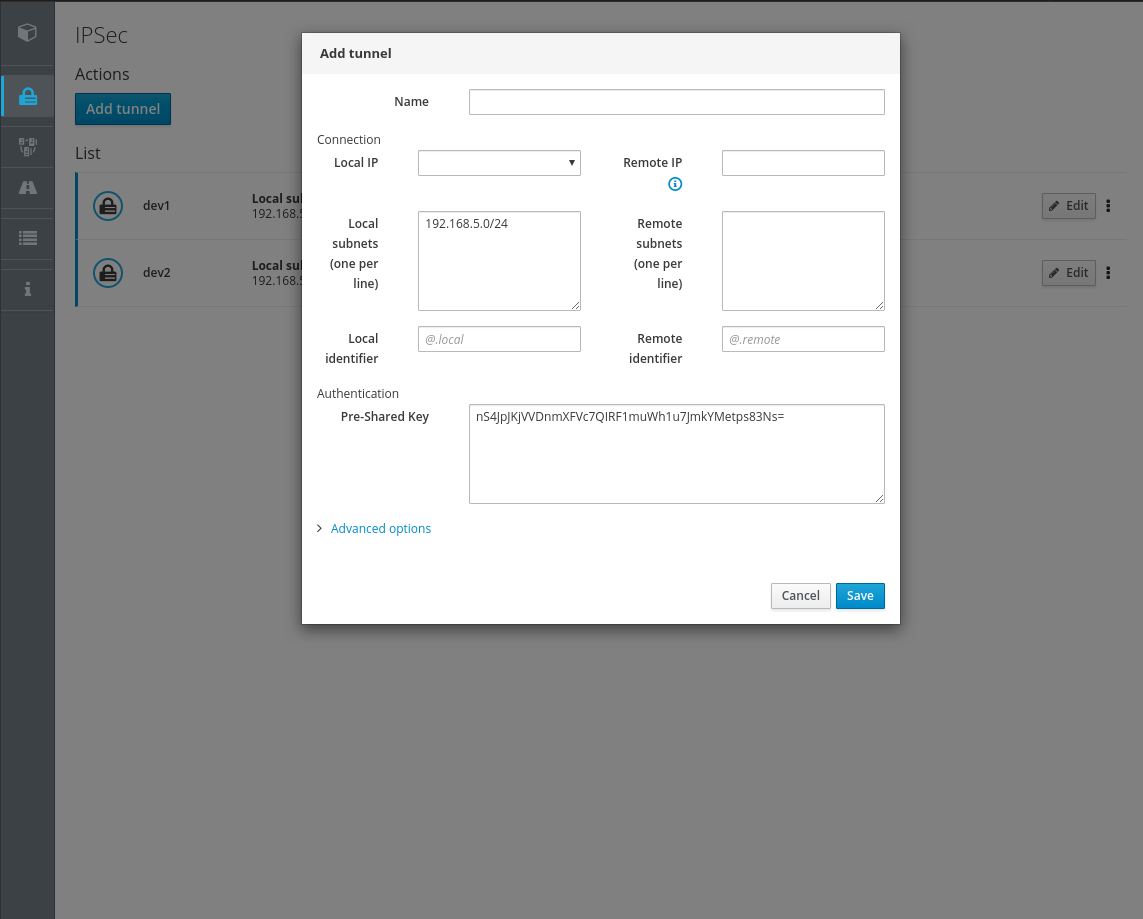 New interface for firewall panel and dashboard
We completely re-designed WAN, Traffic Shaping, Port Forward, Connections and Local rules.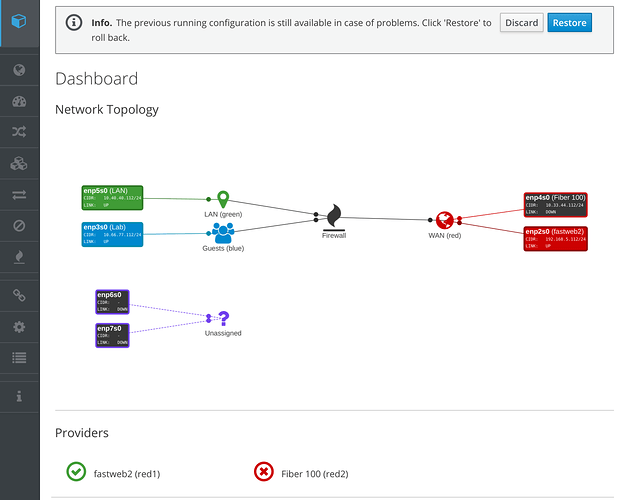 New Fail2ban interface
Statistics about active Jails and more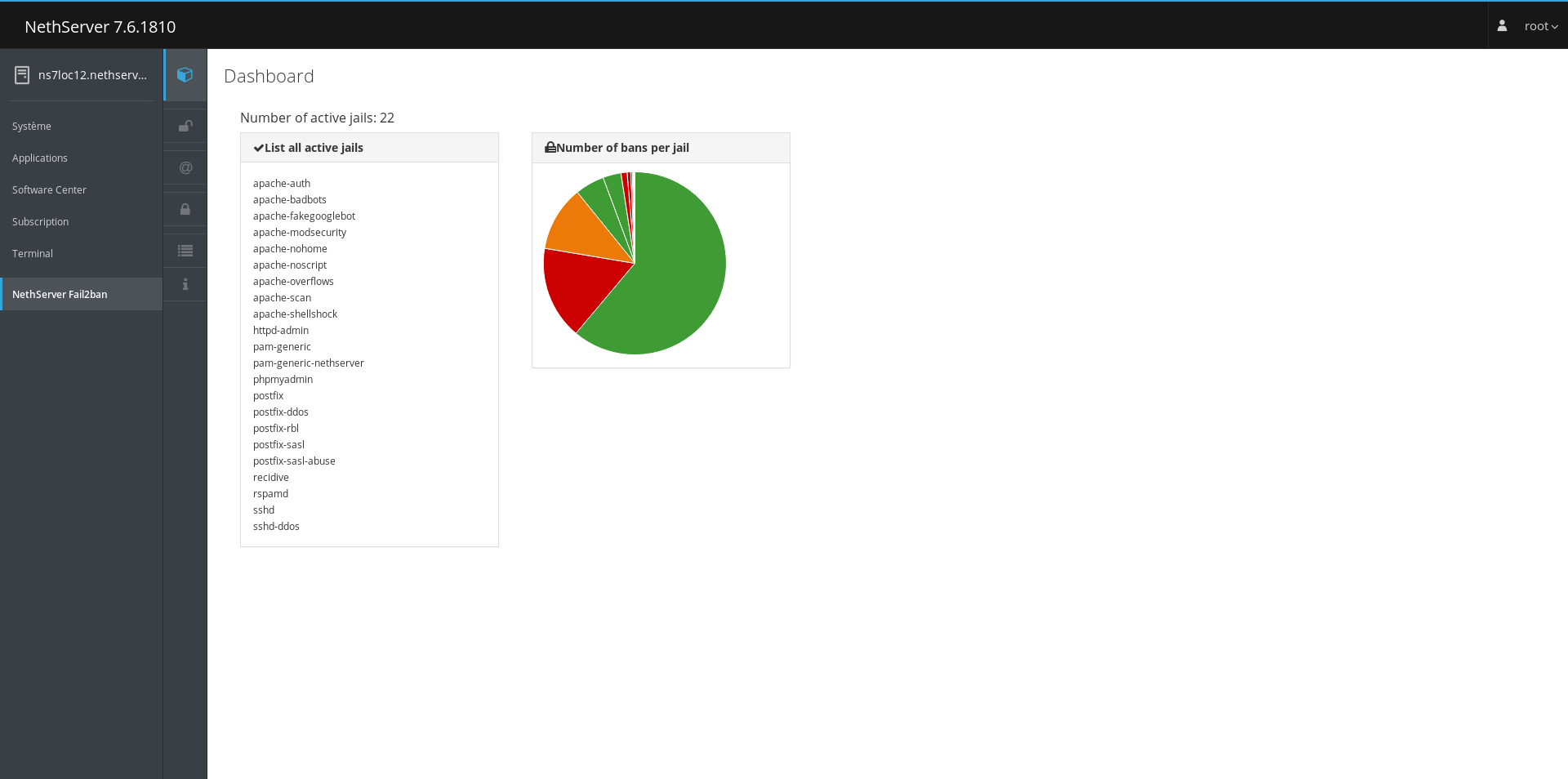 New panel for web proxy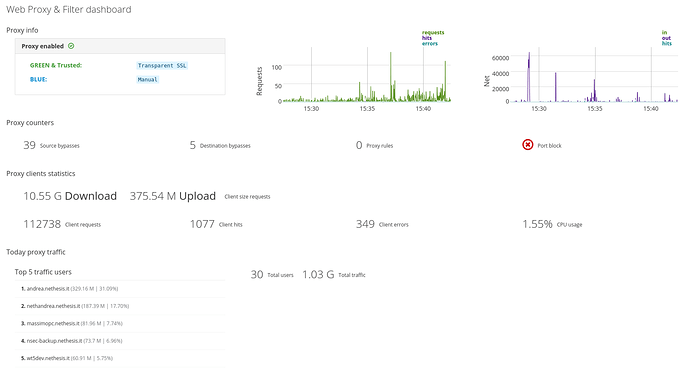 New dashboard for fileserver
Stats on shared folders and audit integration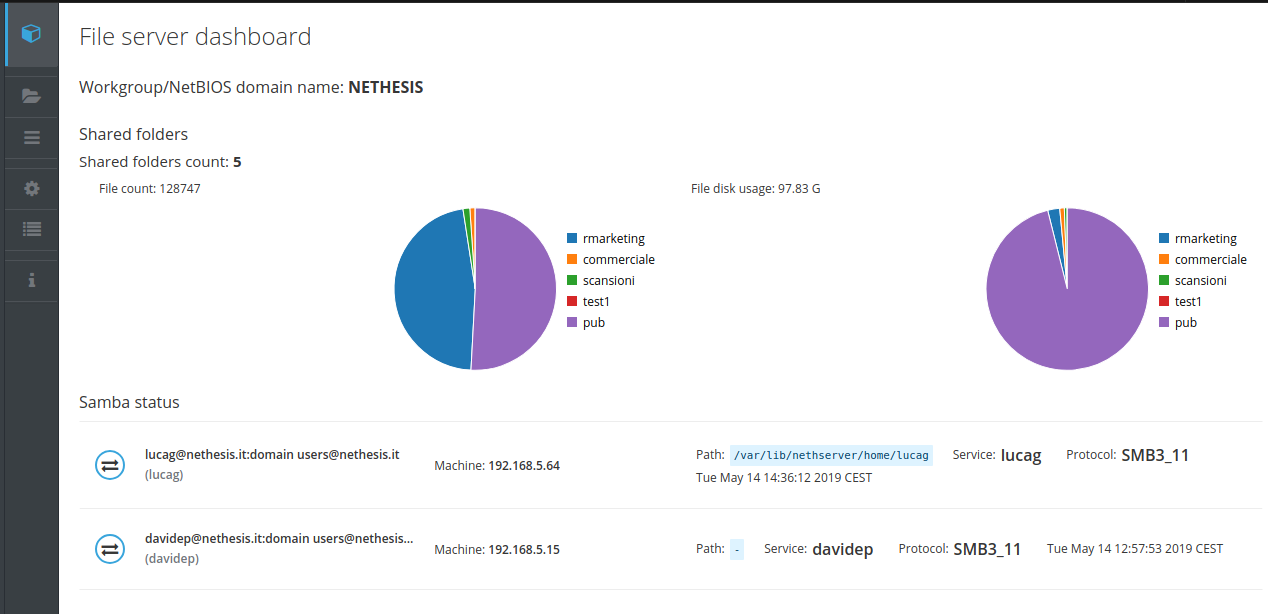 New way to manage multiple backups and restore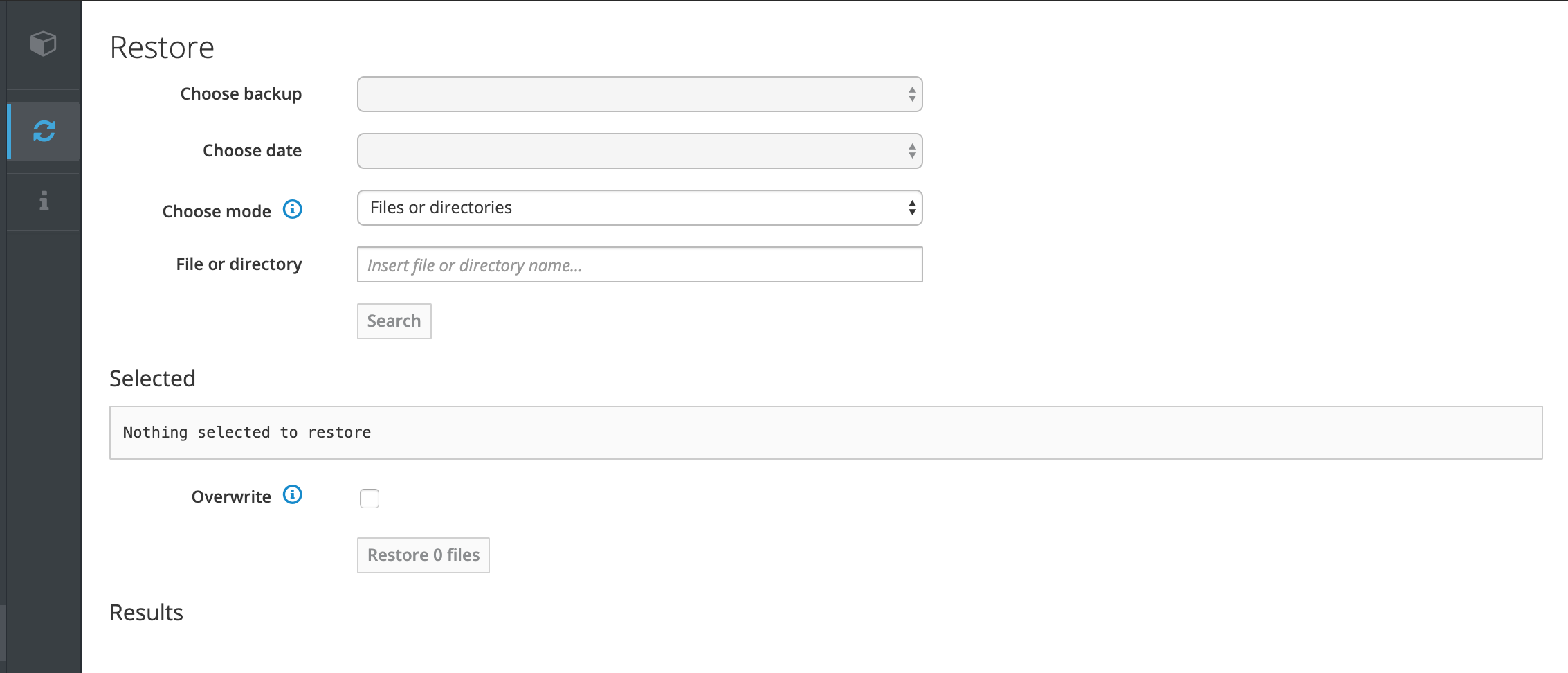 WebTop Groupware 5.7.3
Faster login loading time
Mail grid compact view

New NextCloud panel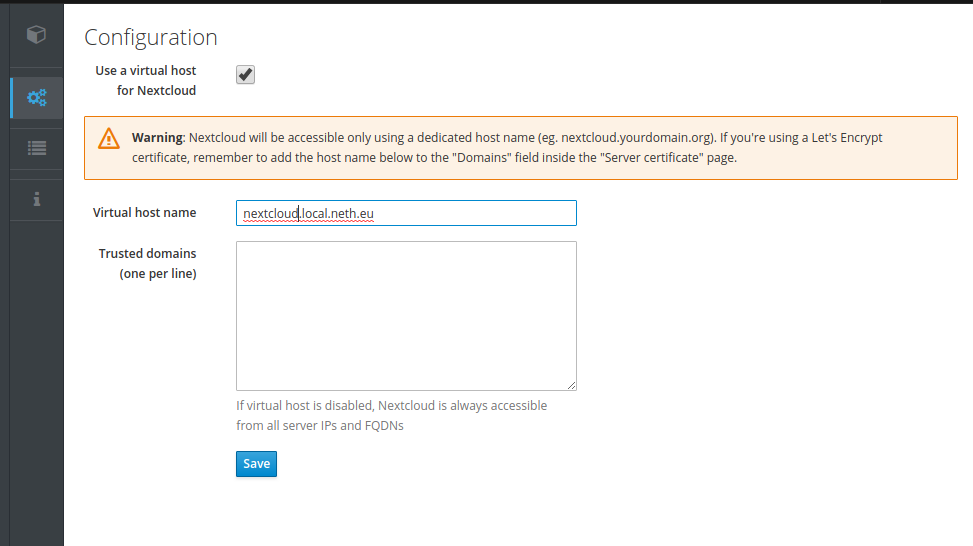 Mattermost 5.15 and NextCloud 17
New panel for UPS and NUT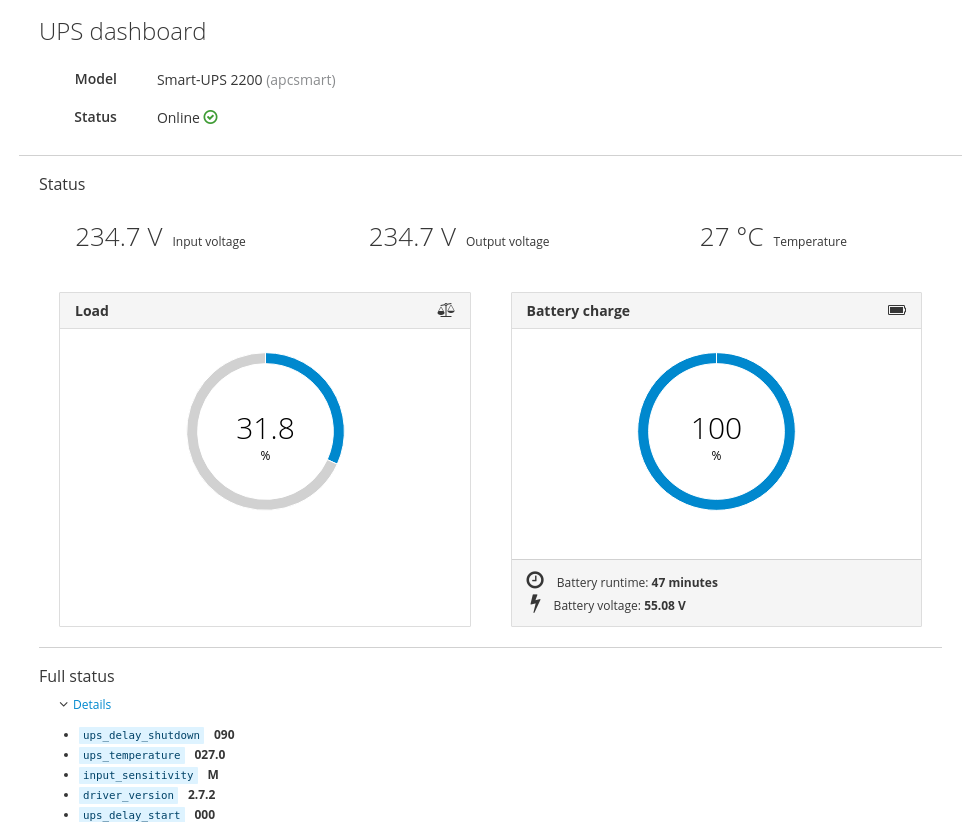 New system reports
A beautiful recap of your system by collecting data from logs, databases, services, files and showing the results in a fully customizable dashboard running directly on your system.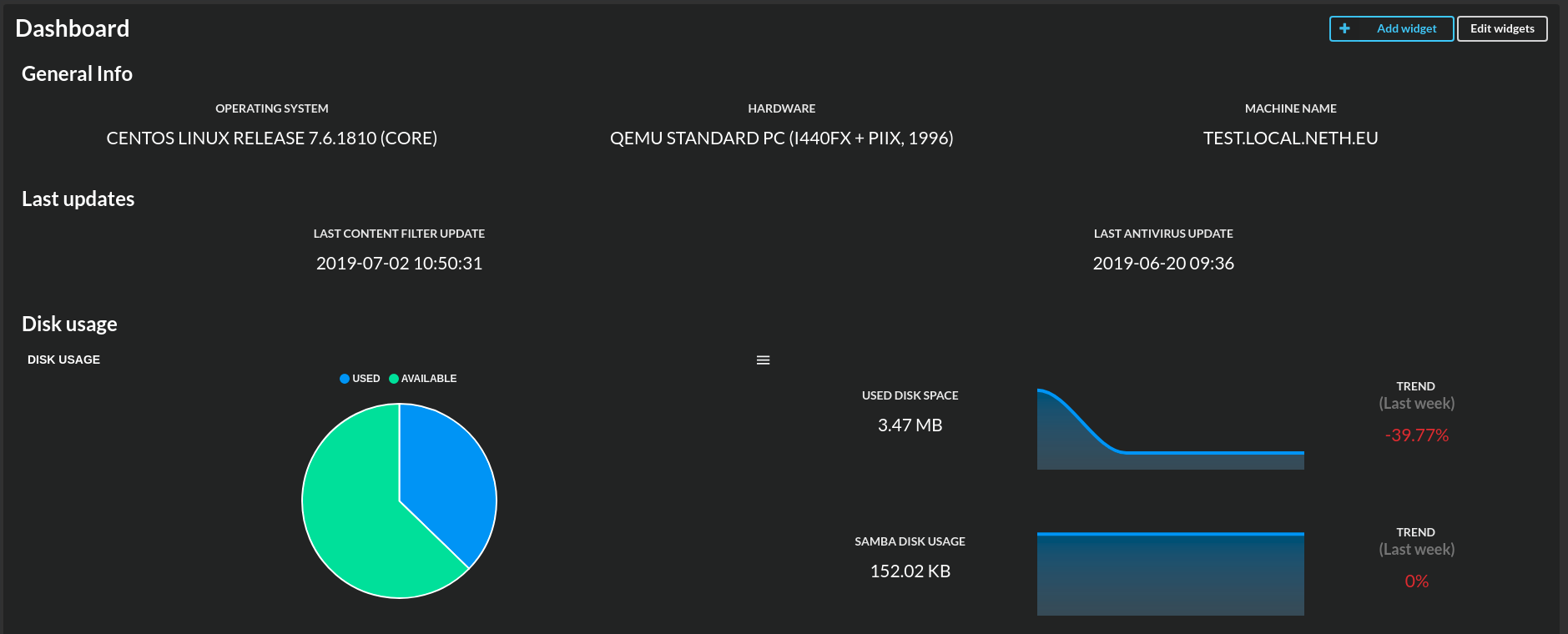 New Apache integration and welcome page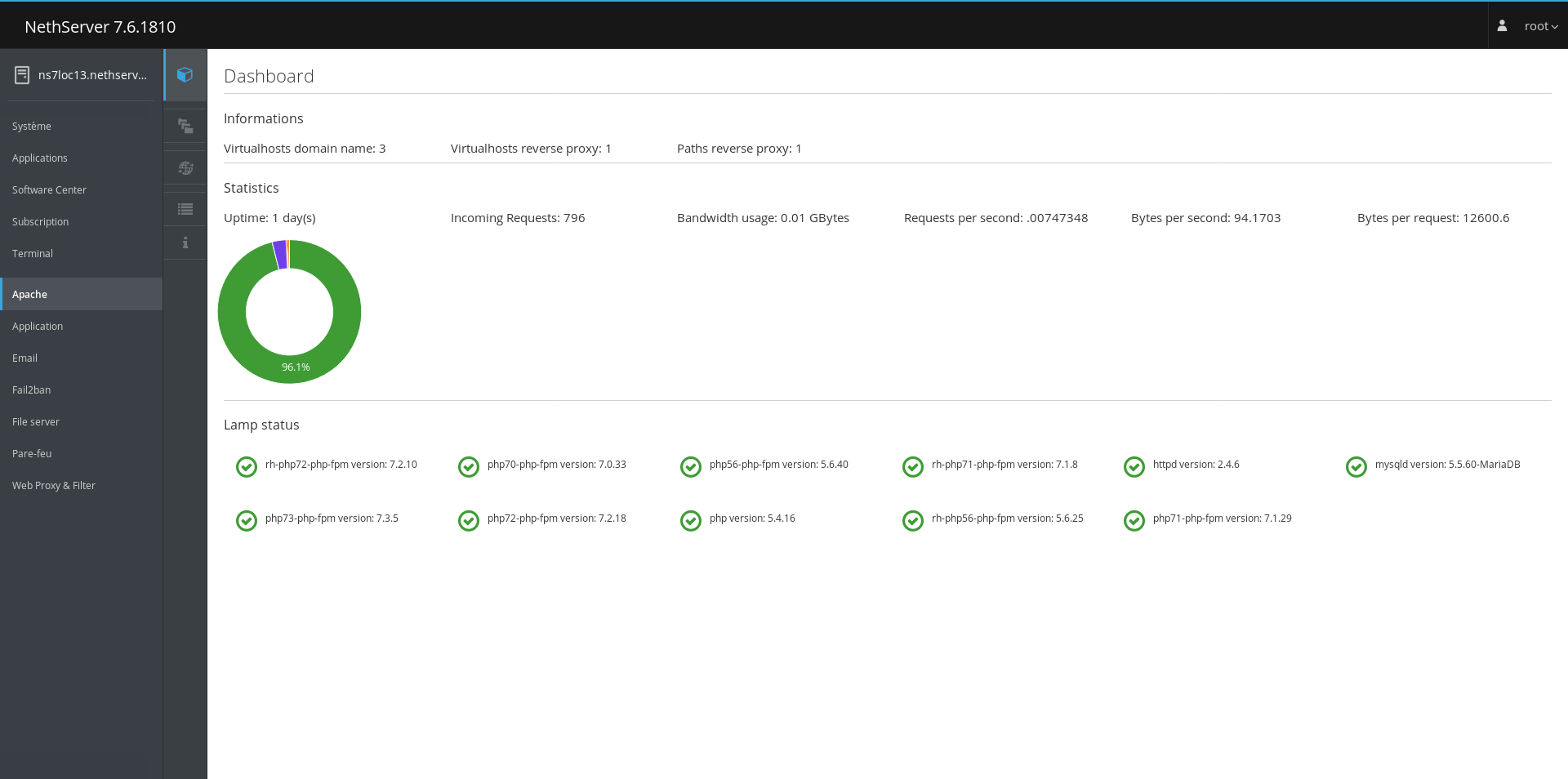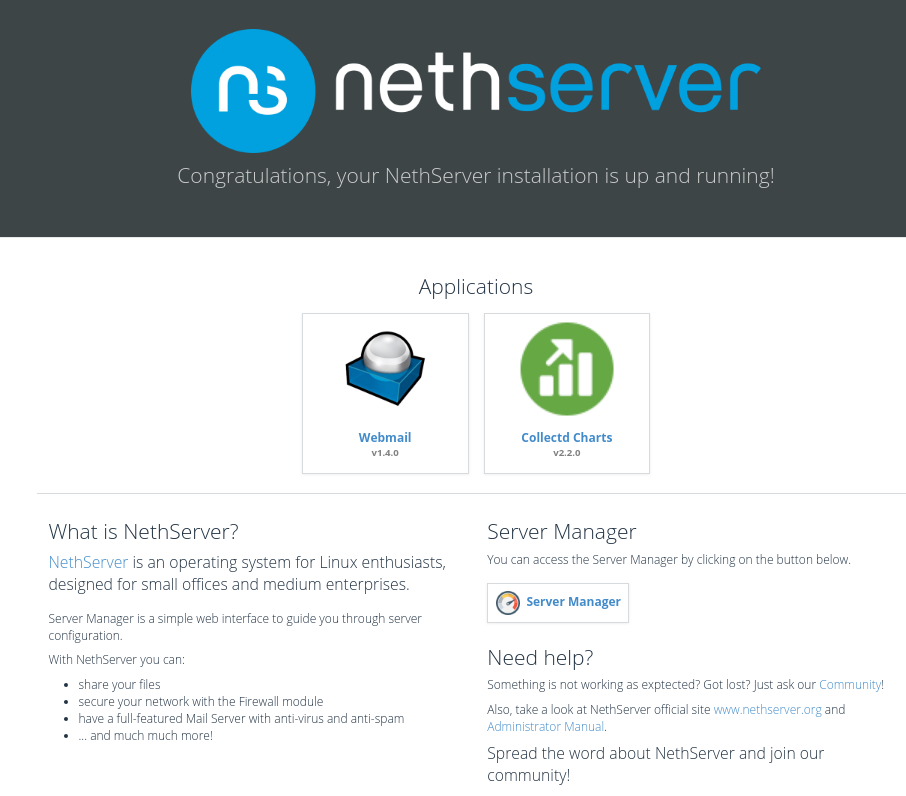 New Applications page
Installed applications are listed under the Applications page. The administrator can pin custom shortcuts to his favorite items.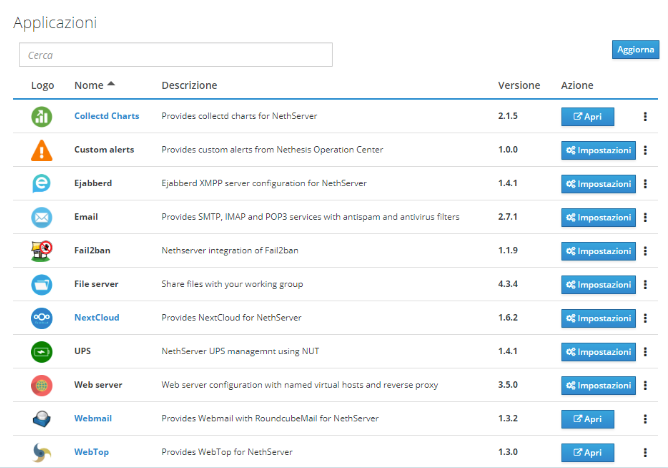 Download and install
Who wouldn't want all these fantastic new features?
You can install NethServer on a virtual machine or on a bare-metal server using a DVD or USB stick
Upgrade from 7 versions are supported through the Software center for community installations (check the paragraph below)
Automatic upgrades to 7.7 for #subscription are being be rolled out
Ready to check it out? Then head to the docs and download:
Direct ISO download, 1,2 GB nethserver-7.7.1908-x86_64.iso
Torrent info hash 94a282f5cf56229e5a24d4b94875bbc35145a1af
SHA1 6466e4896586530f9d2138b35c5502a2bd73abad
MD5 22aeeddaec8ae55de965105f97a3ba3b
Upgrade from NethServer 7.6.1810
The update process is now available from the Software Center.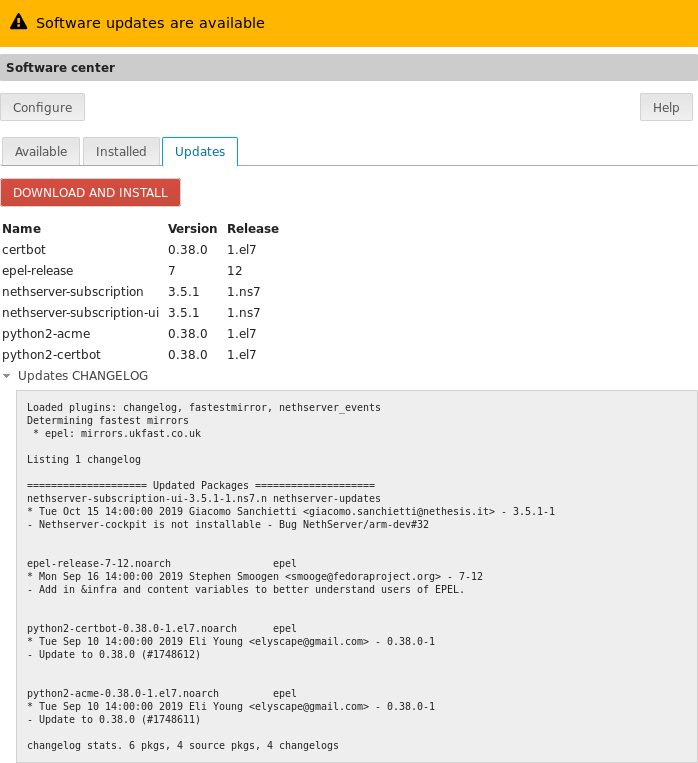 :warning: After the upgrade, reload the Server Manager web page from your browser ( Ctrl+Shift+R or similar) to fix the new style sheets.
Documentation
Did you find a bug? Please report it here – every bug you uncover is a chance to improve the experience for thousands of NethServer users worldwide, also our amazing beta testers team will be called upon to give its support on that!