NethServer 7 Beta1 "Mayo" released
After less then two months of hard work on Alpha3, I'm excited to announce that NethServer 7 Beta1 "Mayo" has been released and is publicly available.
What does the Beta release mean?
Beta releases could be used in production, especially if new features are not used on mission critical systems. Upgrades to the final release will be supported.
The most notable new feature that needs a good amount of testing is the AD Domain Controller setup, with particular focus on the depending functions such as email, shared folders and user authentication.
With this release, we enter a feature freeze phase, all work on adding new core features is suspended, shifting the effort towards fixing bugs and improving the stability and user experience.
Very likely, new modules will be added or modified before the final release.
This Beta release contains all the exciting features of NethServer 7 in a form that anyone can help test. This testing, guided by the NethServer team, helps us target and identify bugs.
Now, we're thrilled to share it with you and hear your feedback, so let's jump right into it.
Overview
The first Beta release of NethServer 7 will bring numerous goodies: a new look that differentiates it from the NethServer 6 family, a brand new Virtual Host panel for easy management of the web server configuration, the ability to configure a Green interface in DHCP mode, refactoring of the "Shared Folder" page with Virtual Hosts and Active Directory Domain Controller role in mind.
MultiWan configuration is now merged into the Network page, the Certificate Management panel lets you edit the default self-signed certificates or upload a custom one from an SSL certificate provider.
We have simplified Network Services management and new services Rules are added directly from the Firewall panel.
Changes from Alpha
There is a ton of major changes from Alpha and it's impossible to cover them all in detail here, so here are some of our favorite highlights:
Simplified Network Service panel, added Zones and new rules on Firewall
The implementation of remote network access to system services has been removed from the Network services panel, because It's now possible create Firewall rules to add restrictions. Network services appears as not removable rules on the Firewall panel and using the Firewall itself as source or destination of firewall rules is permitted.
New Upstream proxy panel
If NethServer can't browse the Internet directly, but has to go thorugh a proxy server, there is now a global HTTP proxy settings page (in the Network panel) to configure all access details for the upstream proxy. The configured proxy will be used for all HTTP and HTTPS traffic originating from the server. The global proxy settings can be overridden for the web proxy (squid) traffic.
Main DNS Servers configuration moved on Network panel
With the aim of having a single place for all Network configuration options, we have moved the DNS Servers page in the Network panel.
First Configuration Wizard improved
The improved Wizard adds an option to set a smarthost to deliver mails even if the system is not a full featured mail server and checks that the hostname syntax follows the DNS rules.
Certificate Management panel
An updated Server certificate panel allows to edit the default self-signed certificate or upload a custom certificate file bought from SSL certificate provider.
The same panel allows you to request a new Let's Encrypt certificate making easier the procedure explained months ago
For those of you who are unfamiliar with Let's Encrypt Client, it is a fully-featured, extensible client for the Let's Encrypt CA (or any other CA that speaks the ACME protocol) that can automate the tasks of obtaining certificates and configuring service daemons to use them (like webserver).
MultiWan configuration is now merged into Network page
Internet Service Providers configuration has been moved to the Network page, consequently MultiWAN fields are added to the Red interface parameters.
DHCP mode available for Green
It's now allowed to configure a Green interface in DHCP mode, now DHCP on VPS is a scenario.
Shared folder refactoring
As we already announced we have refactored the "Shared Folder" page with Virtual Hosts and AD Domain Controller role in mind. The "Shared folder" page configures only Samba shares and the "Web access" panel has been moved to the "Virtual hosts" page. User authentication, Extended ACLs and group ownership are enforced only if the server is member of an Active Directory domain.
New Virtual Host panel
This new panel permits to manage the webserver configuration as simple as possible. There is a new kind of object that allows:
FTP access to the vhost web root
Folders permissions can be set from FTP
SSL/TLS certificate selection.
The UI module has a plugin architecture, so additional features can be added by other packages.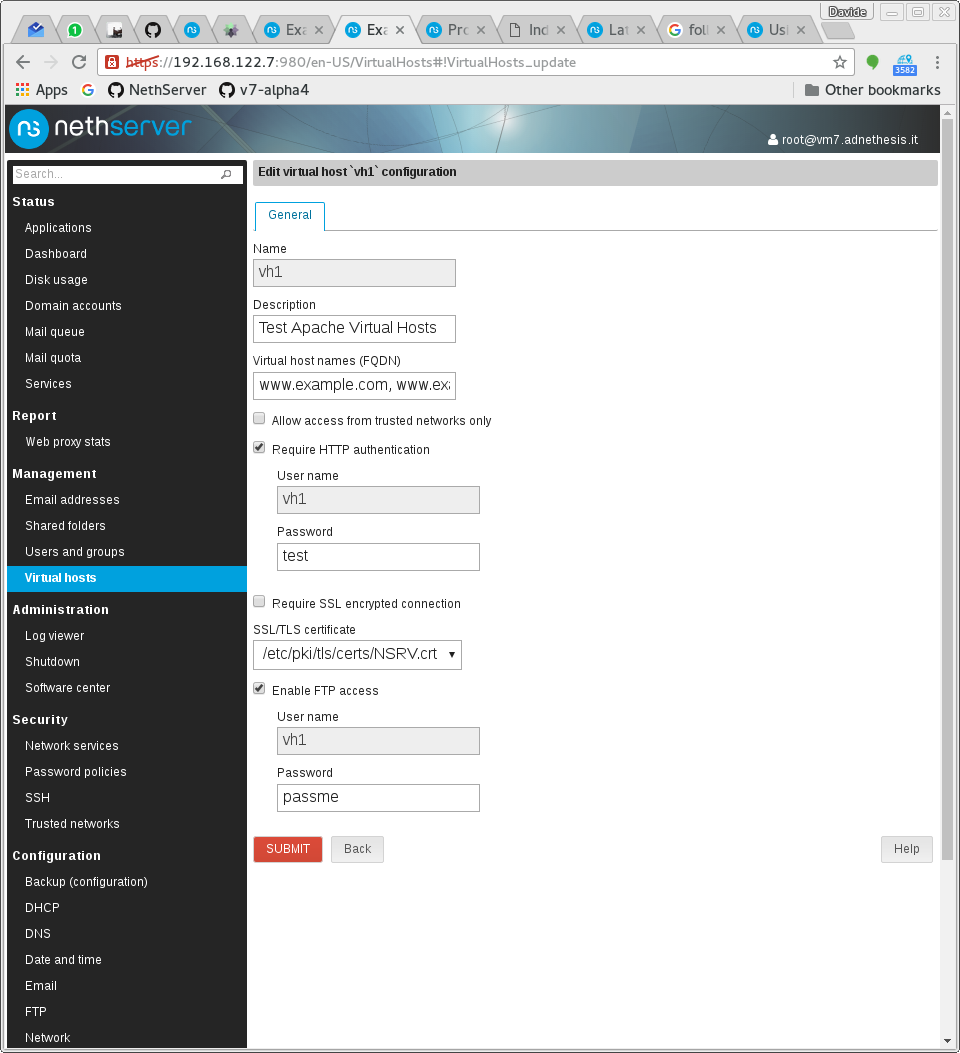 "Reload page" button in Software Center
After installing/removing a module from Software Center, a button will invite to "Reload page" to update the dashboard menu.
New look for NethServer 7
We needed a new look for our next release to differentiate the release 7 from old NethServer 6. After a brief survey in the community we chose the "Light Polygons" theme.
As part of the new look, we have also refreshed our First Configuration Wizard and the Network Panel with an eye towards usability and readability.
And so much more
These are just the major highlights in 7 beta1— there are literally hundreds of other tiny improvements, refinements, and bugfixes that we aren't covering here like:
Enanchement to Software manager specifically on modules uninstallation
Web proxy and Content filter support for Active Directory users and groups
Web proxy with PAM and GSSAPI support
Domain Controller improvements
Authentication with NTLM for Windows XP
Authentication with Kerberos for Windows Vista/Seven/10
Creation of IP aliases on bridge interfaces
VPN panel split in two, OpenVPN and IPsec, to improve users management
Shorewall updated to version 5
Thank the overall NethServer community
As usual, we'd like to first thank the overall NethServer community for contributions toward these improvements — whether it was in feedback, bug reports and suggestions or our personal favorite, feedback based on participation in your very own NethServer community.
"Mayo" is the primary ingredient of Pizza Rossini and that's a special tribute to one of the main contributors to this release: davidep (aka Davide Principi)
Download and Test
We need your help to make NethServer 7 the best release yet, so please take some time to download and try out the Beta1 and make sure the things that are important to you are working.
You can install it on a virtual machine or on a bare-metal server using a DVD or USB stick
Upgrade from Alpha 3 is supported through the Software center
If you find a bug, please report it replying to this topic – every bug you uncover is a chance to improve the experience for thousands of NethServer users worldwide, also our amazing beta testers team will be called upon to give its support on that!
Together, we can make NethServer rock-solid. We have a culture of coordinating new features and pushing fixes upstream as much as possible, and your feedback will help improve not only NethServer but Linux and free software as a whole.
Ready to check it out? Then head to the docs and download:
NethServer 7 Beta1 (784MB)