NethServer 7 Beta2 "Bruschetta" released
After a period of hard work on Beta1, I'm excited to announce that NethServer 7 Beta2 has been released and is publicly available.
In the past months we have asked for help of our members in making NethServer 7 the best release yet, so that's a big step forward on the path towards the final release.
Now, we're thrilled to share it with you and hear your feedback, so let's jump right into it.
Overview
The second Beta release of NethServer 7 will bring numerous goodies: NextCloud 10, advanced static routes, new bandidthd and pop3 connector module.
Changes from Beta1
There is a ton of major changes from Beta1 and it's impossible to cover them all in detail here, so here are some of our favorite highlights:
Nextcloud 10
Nextcloud is a new open source project that makes a private cloud platform at your home, it was born as a fork of the well-known OwnCloud project to reboot it in a better way. Read more in this post
NethServer has switched to Nextcloud from version 7 and developers have built the software packages for the community to easy install and update the app.
Advanced static routes
We have improved actual configuration of static routes, now it's possible to implement routes
with specific selection of device and metric
to force a defaut gateway
This improvement make our firewall more versatile especially in a VPS environment
New bandwidth monitoring module
NethServer comes with ntopng which has also some limitations: only few hours of history available, large amounts of disk space allocated. Plus, our community asked many times a simpler tool to monitor bandwidth usage
With all this in mind, in the Beta2 we have added a new module called: BandwidthD
BandwidthD is a solid tool that has a proven trackrecord, widely adopted and better integrated in our WebUI
New pop3 connector module
Fetchmail is a remote mail retrieval application that unfortunately doesn't work correctly with some ISP's. Therefore we replaced Fetchmail with the much more promising Getmail application.
It's written in Python, easy to extend or customize thanks also to a flexible and extensible architecture.
Reverse proxy
The reverse proxy feature is useful when you want to access internal sites from the outside network and host on an internal webserver. Developed time ago, in Beta2 we added a handy WebUI to configure this amazing feature.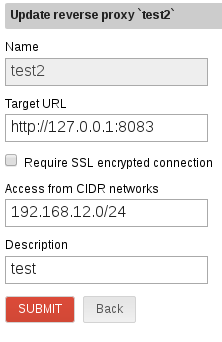 Installation from USB
We have improved the Installation of NethServer from USB, now it works like a charm and it will become a mandatory feature for servers without cdrom reader.
SCL repository is now enabled by default
Software Collections, also known as SCLs, allow you to run the default software version of major applications (like php, python, etc..) that come with CentOS while also allowing a newer version of them to be installed alongside the default version for creating and running software with newer requirements.
Now we can use all the power of SCL repository since it's now enabled by default and users can install applications from SCL repository using the yum command.
And so much more
These are just the major highlights in 7 beta2— there are other tiny improvements, refinements, and bugfixes that we aren't covering here like:
Improved package removal on Software Center
Refactored implementation of Apache configuration
Let's Encrypt
Firewall
Samba
Home binding
DHCP on green
Roundcubemail
SSSD configuration
Certificate management
Installation from USB
What does the Beta release mean?
Beta releases can be used in production, especially if new features are not used on mission critical systems.
Upgrades to the final release will be supported.
What needs test
Also in Beta2, the most notable new feature that needs a good amount of testing is the AD Domain Controller setup, with particular focus on the depending functions such as email, shared folders and user authentication.
Feature freeze phase
This release is already in a core feature freeze phase, all work on adding new core features is suspended, shifting the effort towards fixing bugs and improving the stability and user experience.
This Beta2 release contains all the exciting features of NethServer 7 in a form that anyone can help test. This testing, guided by the NethServer team, helps us target and identify bugs.
Future release
Very likely, new modules will be added or modified before the final release, we invite to stay tuned with our community for fresh news and updates about the forthcoming Release Candidate
Thank the overall NethServer community
As usual, we'd like to first thank the overall NethServer community for contributions toward these improvements — whether it was in feedback, bug reports and suggestions or our personal favorite, feedback based on participation in your very own NethServer community.
Why Bruschetta?
"Bruschetta " is an antipasto (starter dish) from Italy consisting of grilled bread rubbed with garlic and topped with olive oil and salt. It's the favorite dish of @GG_jr and @dnutan so that would be a special tribute to those huge contributors. As Grabriel stated: NS beta 2 it's like a "starter dish" before NS RC1 and possible NS RC2 and we will finish with the desert, NS 7 final release.
Download and Test
We need your help to make NethServer 7 the best release yet, so please take some time to download and try out the Beta2 and make sure the things that are important to you are working.
You can install it on a virtual machine or on a bare-metal server using a DVD or USB stick
Upgrade from Beta1 is supported through the Software center
If you find a bug, please report it replying to this topic – every bug you uncover is a chance to improve the experience for thousands of NethServer users worldwide, also our amazing beta testers team will be called upon to give its support on that!
Together, we can make NethServer rock-solid. We have a culture of coordinating new features and pushing fixes upstream as much as possible, and your feedback will help improve not only NethServer but Linux and free software as a whole.
Ready to check it out? Then head to the docs and download:
NethServer 7 Beta2 (784MB) (from SourceForge.net)